Johannesburg has many top-class conference venues. These are considered the Best Johannesburg Conference Centres.
Sandton Convention Centre, next door to Africa's top-class shopping and business centre.
Gallagher Convention Centre, a peaceful country estate midway between Johannesburg and Pretoria.
Johannesburg Expo Centre, located in the midst of mine dumps and headgear and the world's richest mine south-west of the city centre.
Sandton Convention Centre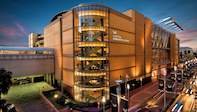 The impressive Sandton Convention Centre is in the northern suburb of Sandton, close to many excellent hotels that include full business facilities. The centre was chosen as the venue for the World Summit on Sustainable Development.
The nearby Sandton City and Sandton Square shopping malls are considered the best in Africa, and include banks, travel agencies, shops and restaurants. The suburb also hosts a range of interesting entertainment, great restaurants and is the headquarters of many of the city's top businesses.
Although in the middle of a busy business area, parking is not a problem at the Convention Centre - 2 sizeable parking arcades are home to 10 600 bays. Getting there is also easy - Sandton can be approached from a number of different directions on major arterial roads and the route to the suburb is well signposted.
The Convention Centre itself is used for conventions, exhibitions and special events and it caters for the disabled. The Sandton Convention Centre is flanked by most of Johannesburg luxury hotels. All these luxury hotels provide a full range of modern hotel facilities and accommodation.
The convention level accommodates 3 500 people and the seating configurations are flexible. For large conferences, concerts and sports or special events over 4 000 people can be accommodated in a multipurpose pavilion. There are 2 exhibition areas of over 5 500 square metres each, together with 15 meeting rooms.
Upcoming events in the next few months are wide-ranging: from a Satcom conference, bringing the best satellite communication minds to Africa; a Reed Exhibition; a Travel Expo; an International Franchise Exhibition to the Weddings Glamour and Beauty Expo and the Computer Faire.
Hotels Near Sandton Convention Centre
InterContinental Johannesburg Sandton Towers is in walking distance of the Sandton Convention Centre and conveniently linked via a skywalk. The Club Floor on the 26th - 28th floors offers its guests VIP check-in, private breakfasts, complimentary sundowner drinks and canapes. A great place to socialize before a conference.

Sandton Sun is conveniently linked to the Sandton Convention Centre by a skywalk and the popular Sandton Shopping Centre. Complimentary transfers to the Gautrain Station are available to all guests, making this the ideal hotel close to the Sandton Convention Centre, and the Sandton business district. The rooftop deck and restaurant offers spectacular views over Sandton.

Garden Court Sandton City Hotel is situated close to Sandton Convention Centre, Sandton City, the Johannesburg Stock Exchange and Nelson Mandela Square. The Gautrain is easily accessible within walking distance, and the hotel also offers a complimentary shuttle service to make business travel as easy as possible.
Gallagher Convention Centre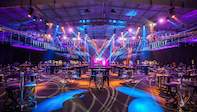 If you want to get away from the hurly-burly and meet in the country, Gallagher Convention Centre is the place. Midway between Johannesburg and Pretoria, it is perfectly situated to host conference delegates from both cities. It can be approached from a number of different routes and major highways and airports are easily accessed.
Completely flexible, with an integrated environment, state of the art technology and an inspiring natural background, this world-class venue transforms any conference function, or exhibition into a truly memorable experience. There are 27 multi-functional venues and secure parking for 5 000 vehicles, all overseen by tight security. A selection of luxury hotels can be found in and around the Gallagher Convention Centre.
Gallagher Estate is capable of hosting up to 7 000 convention delegates. Among the major venues is the Estate Centre, home to the Auditorium and the Ballroom. The Auditorium provides raked seating for up to 414 people, while the auditorium can accommodate 500 people for a dinner-dance or 1 500 people for a seated convention.
Inspiring sun-streaked woodland and water views can be enjoyed from various rooms whilst you attend a conference or function at Gallagher Estate. The Gallagher Convention Centre offers well-appointed conference rooms and self-contained executive boardrooms. There are 5 large exhibition halls for exhibitions, concerts and trade shows, as well as other smaller areas.
When you organise an exhibition or trade show, it is important to know that the venue and staff have the capacity to assist you in both the planning and implementation stages. Over the past few years, Gallagher Estate has become synonymous with hosting successful national and international exhibitions.
Hotels Near Gallagher Convention Centre
The Protea Hotel Midrand is a 15-minute drive away from the Gallagher Convention Centre and provides guests with comfortable hotel accommodation set in beautiful landscaped gardens.
Johannesburg Expo Centre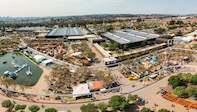 Situated southwest of Johannesburg, near to the Gold Reef City Casino, Gold Reef City historical village, and Apartheid Museum, is the Johannesburg Expo Centre. The exhibition facilities are massive, offering 150 000 square metres of space. The Johannesburg Expo Centre can host 100 000 people and has 20 000 parking bays.
The purpose-designed conference centres are sophisticated complexes, including provision for parallel conference sessions, breakaway rooms, registration and refreshment areas, catering facilities, audio-visual equipment and technical assistance. These facilities cater for a magnitude of people under a professional security network operating 24 hours a day.
The exhibition halls are equipped with sophisticated facilities and are most suitable for larger functions, banquets and product launches and concurrently provide easy access for the physically disabled.
The Johannesburg Expo Centre hosts a number of huge events annually, including the largest consumer exhibition in the southern hemisphere, the Rand Show. Other big shows include Africa Telecom, Auto Africa, Plastex and Electra Mining.
Hotels Near Johannesburg Expo Centre
Gold Reef City Theme Park Hotel is located just 3km from the Johannesburg Expo Centre. Entertainment for the whole family is offered at Gold Reef City, making it a perfect base to stay when you have a conference or event at Johannesburg Expo Centre.

ANEW Hotel Parktonian is situated in Braamfontein just 8km from the Johannesburg Expo Centre. Facilities at ANEW Hotel Parktonian include a fitness center, swimming pool, rooftop bar entertainment area and 360-degree views over the city. The Gautrain station is within walking distance.

Four Seasons Hotel The Westcliff is a 5-star luxury hotel located 9.6km away from the Johannesburg Expo Centre. This elegant hotel has a villa style with beautiful courtyards, fountains and gardens. Relax at the world-class spa and ease your stress after your event or conference.