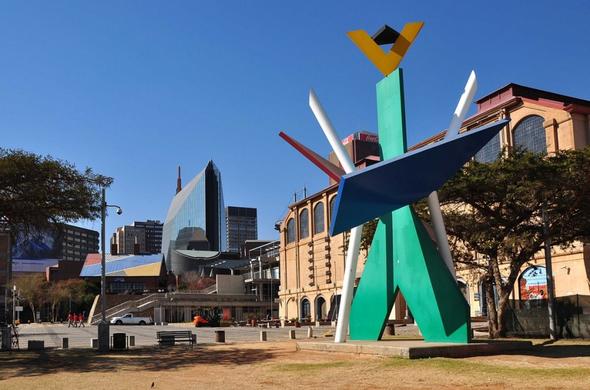 Johannesburg is the South African city that never sleeps and is the powerhouse of Africa. There are so many things to see and do, all centrally located or within a 2 hour driving radius.
Johannesburg, Gauteng, South Africa
Known as the "City of Gold" because of its world-renowned gold mining history and striking golden mine heaps on the outskirts of the city, it is also Africa's financial hub. Johannesburg in Gauteng is also the world's biggest man-made forest,
providing a range of activities
for adventure enthusiasts, combined with a rich cosmopolitan cultural experience offering world class entertainment all year long.
Soweto, Gauteng, South Africa
Soweto is well known for its historical role in South Africa's struggle for democracy and liberation. The township Soweto has more than a million residents with diverse cultures and backgrounds. Well-known international figures such as the Nobel Peace Prize winners, Nelson Mandela and Archbishop Desmond Tutu use to live here in Vilakazi-Street.
Soweto has gained city-status within the Johannesburg precinct; a city known to unite people of all cultures and identities. The 3.5 million population of Soweto encompasses 21 townships. There are many cultures and tribes clustered together in Soweto - a melting pot of ideas and energies and a co-existence of multi millionaires and humble traders.
Soweto in South Africa has a strong sense of community despite the lack of facilities in some areas and unemployment difficulties. This is a fascinating place to visit. A must for visitors is an organized tour of the Soweto Township and Shebeens (taverns). Adventurous food lovers will find a wide range of decidedly different cuisine!
Soweto is also the home of Orlando Pirates, founded in 1937 and the oldest football club in the country. The club is based in Orlando East. Soweto is connected in everyway to South Africa's turbulent history and emancipation.
Freedom Square is a strong symbol of freedom in the nation's struggle for liberty. The Freedom Charter of South Africa was signed in Kliptown and the Mandela Museum commemorates the life and times of Nelson Mandela.
The Hector Pieterson Museum is a memorial to more than 500 people (including 12 year old Hector) who died in a student uprising in the 70's. The fateful day June 16 is now a Public Holiday in South Africa to commemorate the youth of the country.
Highlights in Greater Johannesburg
With something for everyone and hours of entertainment, Gold Reef City has it all. There is a theme park of note and plenty of places to eat and drink. Visitors can experience the history of gold in Johannesburg and travel down a mine shaft. South Africa's first 4D Theatre is located in this theme park.
Gold Reef City in Johannesburg, Gauteng, also has a casino and plenty of parking. Activities include: Gold Heritage Tour, 30 exciting rides, Restaurants and shops, Amusement Park attractions, Kids entertainment, Traditional Tribal Dancers, Victorian Hotel, Casino.
Attention avid night clubbers, Johannesburg is the party capital of South Africa! There are venues all over town featuring live music and DJs spinning house, techno, trance, jungle and more. Nightclubs in this Gauteng city vary from small and happening to huge warehouses that cater for large crowds. For more information purchasing a local clubbing guide of Johannesburg would be helpful.
For an inner city attraction with general facilities, you should go and visit the Carlton Centre, tallest building in Africa at 202 metres - the views from the 50th floor are spectacular. The Carlton in Johannesburg also has the largest shopping centre in the city. Visitors will find a skating rink and around 180 shops in the underground complex.
For those wanting a quieter shopping and entertainment venue out of Johannesburg, then the Brightwater Commons at the Randburg Waterfront is ideal. This attractive centre has great natural surroundings and a musical fountain with a dazzling firework display.
There is plenty to do for everyone and options include a unique bowling venue, mini-golf, Lazer Quest (similar to indoor paintball), cinemas, kid's fun activities, restaurants and pubs. The Lion Park close to Sandton and Lanseria Airport, provides a great day out where visitors can photograph and play with the cubs, as well as drive through the area to view the Big Cats.
The Lion Park in Johannesburg is open daily and has a large variety of animals both carnivore and herbivore. There is a Giraffe feeding platform and lots going on every day. A restaurant is available and a large barbeque takes place on Sundays.
One of the latest international attractions causing a stir in this Gauteng city is the World Heritage Site, Cradle of Humankind in Maropeng. This is a must see on a visit to Johannesburg. Visitors can explore fantastic underground displays which depict the journey of the Earth and humankind from the beginning to now.
Located in the same complex is another top attraction the Rhino and Lion Nature Reserve with great activities for day visitors in Johannesburg. Just 45 minutes by car from Johannesburg / Pretoria is Hartebeespoort Dam, a popular outing for day trippers and water sport fans.
Visitors to this area in Gauteng, South Africa, will find an aquarium (one of the largest on the continent), a private zoo, Snake Park, the De Wildt Cheetah and Wildlife Centre, an Elephant Sanctuary and much more.
Interesting local art and craft is available and food lovers can try traditional Afrikaans food or choose from a variety of eateries. There is also a Cultural Village for an authentic African experience and visitors can find South African mementos to take home.
Top Visitor Attractions in or Near Johannesburg or Soweto, South Africa
Wildlife
Johannesburg Zoo and rowing on Zoo Lake - Saxonwold
Lion Park - near Lanseria Airport / Sandton
Crocodile Farm - Fourways
Rhino and Lion Park - Cradle of Humankind
De Wildt Cheetah Wildlife Centre - near Hartebeespoort Dam
The Elephant Sanctuary - near Hartebeespoort Dam
Pilanesberg Nature Reserve (2 hours from the city next to Sun City)
Adventure and Action Activities
Indoor Go-Karting at Compu - Kart Raceway - Wilbart
Outdoor Go-Karting at Kyalami Grand Prix circuit
Motor racing circuit - Kyalami and Zwartkops in Midrand
Paintball City - Germiston
Daytona Adventure Park Quadbiking - Fourways
Orlando Towers Vertical Adventure Centre - Soweto
Wonderwall Indoor Climbing Gym - Northriding
Cultural Attractions and Museums
New Town Cultural Precinct - Newtown
Johannesburg Planetarium - University of Witwatersrand
Constitution Hill - central Johannesburg
SA Museum of Military History - next to the Joburg Zoo
James Hall Museum of Transport - La Rochelle
The Apartheid Museum - near OR Tambo International Airport
Hector Pieterson Museum - Soweto
Mandela Museum - Soweto
Cradle of Humankind (World Heritage Site) - Maropeng
Entertainment, Theme Park, and Tours
Gold Reef City complex
SAB World of Beer tours - Newtown
Nelson Mandela Square - Sandton
Lesedi Cultural Village - north Joburg on R512 road
Sun City (entertainment complex 2 hours from the city)
Shopping
Oriental Plaza - Newtown
Bruma Lake Flea Market - next to the lake
Market Theatre Flea Market - central
Rooftop Market - Rosebank Mall, Rosebank
The Carlton Centre - central city
Brightwater Commons Shopping Centre - Randburg Waterfront