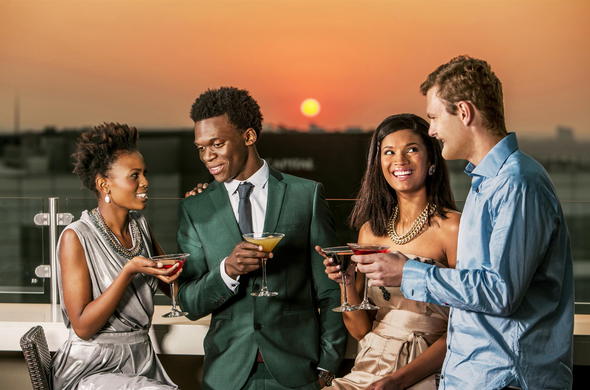 Johannesburg boasts a vibrant nightlife ranging from exclusive clubs to some of South Africa's finest restaurants which you can enjoy during your Johannesburg holiday.
Johannesburg nightlife boasts something for everyone to enjoy in the evenings, from spectacular plays to clubbing and fine dining. The city of Johannesburg boasts several world class theatres including the Civic Theatre and The Market Theatre. The Civic Theatre is home to the Nelson Mandela Theatre, Tesson Theatre and the Peoples Theatre. Guests can usually look forward to a range of productions, ranging from local plays to international shows.
The Market Theatre was founded in 1976 where the Johannesburg Indian Fruit Market used to be. Known as South Africa's 'Theatre of Struggle', the productions at the Market Theatre challenged the apartheid regime. In 1995, the theatre received the American Jujamcyn Award. Visitors can enjoy a range of international and local productions on their Johannesburg holiday.
Johannesburg is an international culinary melting pot. Most Johannesburg Hotels can advise and make reservations at the best restaurants in town. Guests can look forward to a diverse range of fine restaurants. Cuisine ranges from Indian, Greek, Italian, Chinese and Thai to Japanese, Argentinean and Portuguese. If you're lucky, you might get invited to a local braai (barbeque). If you don't there's no need to worry, Johannesburg has several decent steakhouses almost of every corner.
Clubbing in Johannesburg is almost just as diverse as its cuisine. Clubs range from super slick and trendy to a more relaxed atmosphere. Some of these clubs showcase the best in South African music with live bands while others host international DJ's.
The clubs often cater for more than one music taste with certain nights dedicated to a specific music genre. Keep your eye on the press for information on the latest bands and DJ's touring in Johannesburg. Johannesburg offers something for everyone.
The restaurants vary from child friendly to romantic or fashionable. The clubs cater for a wide range of different music tastes while the Johannesburg theatres boast some of the best talent in South Africa.
Contact a
Siyabona Travel Consultant
for more information on accommodation in Johannesburg or Johannesburg activities.