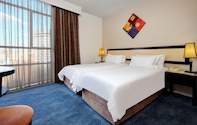 Guests visiting ANEW Hotel Parktonian in Johannesburg are accommodated in 300 elegant, one bed roomed suites with a balcony.
ANEW Hotel Parktonian comprises 300 luxurious, spacious and elegantly appointed suites on 23 floors. Each has a separate lounge, bedroom and bathroom, full-sized desk and balcony. All rooms have air-conditioning, central heating, 2 telephones with direct dialling and a hairdryer.
Standard Suites
ANEW Hotel Parktonian has 146 comfortable Standard Suites. The suites have twin or double beds with a separate lounge including workspace. This suite also offers guests breathtaking views of the Johannesburg skyline from the private balcony.
Family Suites
This hotel in the Braamfontein area have 10 Family Suites with king beds and 2 single beds. The family suites also have separate lounge with workspace and a balcony.
Deluxe Suites
The 98 Deluxe Suites at ANEW Hotel Parktonian have queen beds with an en-suite bathroom. Guests can enjoy brathtaking views from the private balcony from this suite. The suite have a lounge area with worksapce.
Executive Suite
ANEW Hotel Parktonian has 46 Executive suites with King size beds and en-suite bathrooms. The suite has a separate lounge area with workspace and a private balcony.
Room facilities
Electronic safe
Desk
Tea & Coffee making facilities
Complimentary Wi-Fi
Hairdryer
TV & DSTV