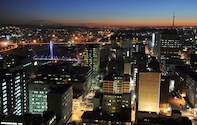 ANEW Hotel Parktonian is located close to the business district in Braamfontein, Johhanesburg.
Ideally located close to the financial district, just minutes away from the major freeway system, all major theatres, shopping malls and sports stadiums. Various exhibition centres are also close to this Johannesburg hotel.
There is a fully equipped Business Centre and secretarial services can be arranged, with 24-hour security throughout this Johannesburg hotel and the parking area. The guest Assistance Desk can be used to arrange all sightseeing tours as well as theatre and restaurant bookings. A complimentary Shuttle bus on Monday to Friday evenings will drop off/collect guests to/from near by attractions.
ANEW Hotel Parktonian Distances to Attractions
CBD – 4 kms
Auckland Park – 7 kms
Civic Theatre – 1 kms
Constitution Hill – 1 kms
Ellis Park – 4 kms
Gold Reef City – 10 kms
Killarny Mall – 6 kms
NASREC – 15 kms
Oriental Plaza -6 kms
Park Station – 2 kms
Parktown – 2 kms
Witwatersrand University – 2 kms